I remember reading once on one of my favorite blogs, Yummy Supper, that the author said she began to crave greens all the time, even in the morning for breakfast. I immediately thought "that will NEVER happen to me." First of all, I don't really like breakfast. Second, I don't really like greens all that much. We eat them because we have to, right? But, now I get it. With all sincerity, I can say that greens are out-of-this-world amazing.
Today I had an epiphany, an "ah-ha!" moment. Greens taste good. Not just good, like really freaking good, almost entirely on their own. That specifically does not mean the kind of "greens" that are barely edible after being slathered in dressing and/or are unnoticeable when they lie under a giant pile of meat and cheese.
By themselves, when grown with care and eaten shortly after being picked, greens are shockingly delicious. I learned this first hand today. It changed my life! I [now] love greens! In fact, I may even crave them for breakfast one day.
Prior to this realization, with the kids fast asleep in the back of the car, I drove out to Small City Farm to pick up our first CSA share on Wednesday. On your way out to the farm, you can see a perfect skyline of the buildings in uptown Charlotte. It was a gorgeous 70 degree day, full of Carolina blue skies. It could not have been more picture perfect for my first visit to Small City Farm.
Josh and I have never been a part of a CSA (community supported agriculture) before, so I didn't really know what to expect. Or at least, we got much more than I may have expected. Our take included a large basket complete with vibrant leafy greens, a rainbow of sweet peppers, fragrant herbs, eggs and goat's milk feta.
Returning home, I concocted the the aforementioned combination of greens, vegetables, feta, and dressing that lead me to my epihany. The recipe you see here incorporates the mizuna & arugula greens, with perfectly ripe tomatoes, thinly sliced red onion, and out-of-this-world goat's milk feta I picked up from Small City Farm. I topped this raw, uncooked combination with a super simple homemade champagne vinaigrette.
The greens really are the star of the show here - spicy, bitter, and tangibly refreshing. In fact, I deliberately kept this recipe simple to savor the robust, natural flavors in these fresh ingredients. So go getcha some farm fresh veggies and let me know what you think of the salad! Cheers!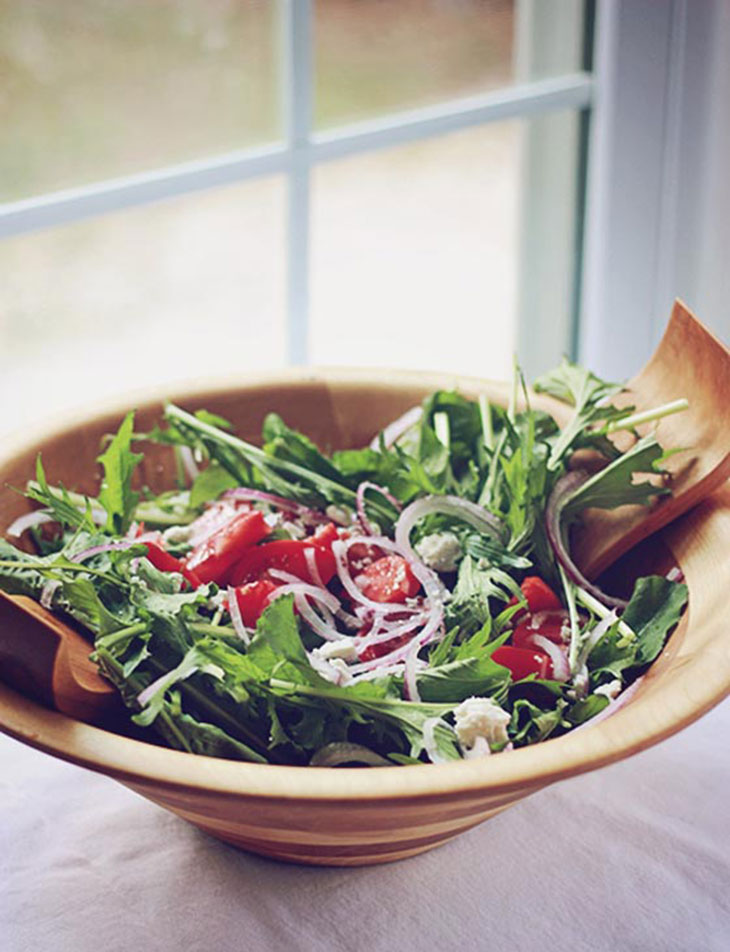 Mizuna and Arugula Salad with Goat's Milk Feta and Champagne Vinegrette
2 1/2 cups of washed mizuna field greens
2 1/2 cups of washed arugula greens
2-3 medium ripe tomatoes, cored and roughly chopped
1/2 medium red onion, sliced as thin as possible
goat's milk feta from your favorite cheese-monger
1/4 cup good extra virgin olive oil
1 tablespoon champagne vinaigrette
1 teaspoon dried mustard
salt and freshly ground black pepper to taste
Place the washed and dried mizuna and arugula greens in a large salad bowl. Top with the tomatoes, onion, and as much goat's milk feta as you like. Okay, maybe a little more on there - as Josh says, "feta makes everything betta."
In a separate bowl whisk together the olive oil, champagne vinaigrette, dried mustard, and a little salt and pepper. Pour the dressing over the salad and get ready to have your socks rocked off, by a salad!
Told ya!