Josh and I have a slight addiction to Mexican food. For us, it just doesn't get better than a couple of cold cervezas (or margaritas), some quacamole, and Josh's AMAZING salsa. It took Josh months to perfect this recipe, testing and trying out slightly different ingredients and proportions. He's even picky about the tomatoes used (and we've tried them all).
I swear every time we serve this, someone asks for the recipe. Now when we visit friends, tailgates, or parties, people serve "Josh's Salsa". It's that good. You've been warned.
This recipe makes a lot of salsa. It's perfect for a large gathering, or if you want to save some to make my most delicious huevos rancheros later. Either way you can't go wrong.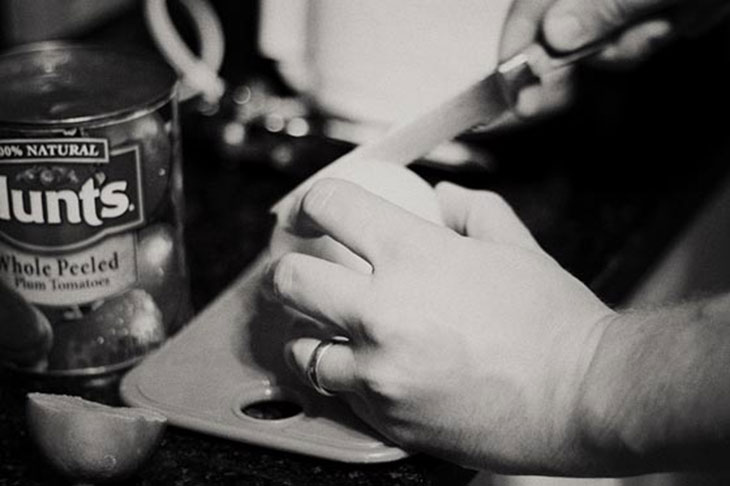 Josh's Amazing Salsa
Creates approx. 3 quarts
One 28oz can of Hunt's diced tomatoes AND one 28oz can of Hunt's Whole Plum Tomatoes*
1/3 of a medium sized yellow onion
1 whole medium lime squeezed
1 bunch of cilantro
4 large jalapenos (or 6 small to medium sized), sliced in half and seeded**
1/2 tbs salt
1/2 tbs garlic powder
* I prefer Hunt's - they have the best taste, in my opinion, for this recipe. Full disclosure - we're not getting paid to say this. ** Be VERY careful when you slice and pull the seeds out of your jalapenos. I usually do this over the sink with running water to minimize the burn and sneezing effects. Make sure to wash your hands thoroughly after you finish, or else you could end up feeling a bit of pain. Or you could use gloves.
Grab your food processor and a good cutting knife. Our food processor is a bit smaller than conventional sized ones, so I go about this a little bit differently than you could. You can process the components in many small batches, as I do, or you can do it all at once.
Start by chopping your jalapeno and onions, but don't worry about chopping them too precisely or too small. Open your tomato cans, and mix everything together (jalapenos, cilantro, onions, and tomatoes) in the food processor. Make sure you pulse the "chop" button, and even then, pulse it no more than a dozen times if you like a thicker, chunkier salsa. Place the processed veggies into a mixing bowl. Add salt, garlic powder, and squeezed lime juice to the bowl. Mix it all together with a big spoon.
Take your favorite tortilla chip, dip, enjoy, and try not to eat it all at once!